Popular Resort in Clark Pampanga used by Manila companies for seminars
EVR VET Options held its Seminar in Clearwater Resort on January 12-17, 2023. Clark Pampanga was the preferred destination for this event not only because of its proximity to Manila and good roads for a smooth journey but also the good law and order record of this freeport city.
A total of 24 participants gathered in this lake resort in Clark Pampanga to hold their Seminar. To many participants who live in congested big cities, it is a treat just to experience the leisure lifestyle and natural surroundings around the lake and beach of this resort in Clark.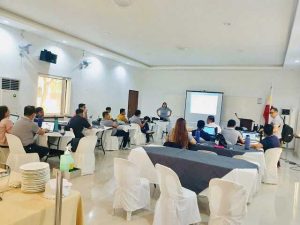 Click here for more information about this resort in Clark as well as its accommodation and event facilities.
This resort in Clark Pampanga is well regarded among event organizers in the Philippines for their natural event venues for companies requiring exclusivity and a high sense of privacy. Lately more and more companies in Manila have discovered that this resort in Clark is also ideal for holding seminars. In the past, event organizers had no choice but to rent a function room in a traditional hotel for meetings and seminars. These companies have discovered that the participants quickly get bored after the first half of the meeting. In this resort in Clark, event planners are able to include breakaway gatherings in an outdoor setting, giving participants a much-needed change of scenery. This is one of the reasons why this resort in Clark has become the preferred destination and venue of choice for corporate events and teambuilding in Pampanga.
One of the popular stops for people visiting Clark and Angeles City Pampanga is the biggest wine shop in Dau and Angeles City, called Wine City.  This is one of the best wine shops in Philippines to shop for good quality wines at competitive prices.
Posted: January 25th, 2023 under Events, News, News About Clark.

Write a comment